Details
Diadora Utility
JACKET PADDED CANVAS 13688:2013
Unisex work and safety jacket
Certifications & Plus
Certifications & Plus
Description
Description
Strong cotton canvas padded bomber jacket with adjustable hood. Quilted lining. Sturdy metal front zip, zipped chest pocket, pouch pocket. Ribbed bottom and cuffs. Inside pocket.
Suitable for
Attributes
Attributes
Materials

Shell: 100% Brushed cotton canvas Lining: Polytricot and taffeta 100% pl Padding: 100% Polyester 140 gr/m2
Packaging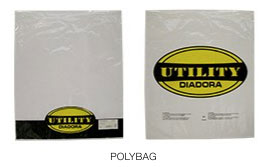 Usage Limitations
The garment offers no protection against the following risks:
getting caught in machines or parts in movement;
chemical aggression (acid, solvents, etc.);
mechanical aggression (cuts, perforations, etc.);
thermal risk;
flame and fire;
poor visibility;
all other risks for which the garment has not been certified.
CAREFULLY READ THE FOLLOWING INSTRUCTION FOR USE.
This garment has been designed and created in such a way as to satisfy the essential safety and health requisites of EEC Directive 89/686, acknowledged by Legislative Decree No. 475/92 and subsequent modifications, and in conformity with EN ISO 13688:2013 regulations concerning the general requisites for protection garments.
WARNING:
the user must identify, by evaluating any possible risks, the necessity of combining the garment with other protection devices for the remaining parts of the body;
the performance of the garment is guaranteed when it is worn and fastened correctly is of adequate size;
if the garment should result faulty or if some defects can be seen on it, stop using the garment and replace it with an adequate one;
any changes to the DPI are prohibited.