Details
Diadora Sport
MYTHOS MDS 2
Running shoe - Men
Details
Diadora Sport
MYTHOS MDS 2
Running shoe - Men
---
Man shoes
Shoe size measurement
Foot length (mm)
EU
UK
USA
JP
| 220,78 | 225,01 | 229,24 | 233,47 | 237,70 | 241,90 | 246,60 | 250,30 | 254,60 | 258,80 | 263,08 | 267,30 | 271,54 | 275,77 | 280,00 | 284,23 | 288,46 | 292,69 | 296,92 | 301,15 | 305,38 | 309,61 | 313,84 | 318,07 | 322,30 |
| --- | --- | --- | --- | --- | --- | --- | --- | --- | --- | --- | --- | --- | --- | --- | --- | --- | --- | --- | --- | --- | --- | --- | --- | --- |
| 33 | 33.5 | 34 | 35 | 35.5 | 36 | 36.5 | 37 | 38 | 38.5 | 39 | 40 | 40.5 | 41 | 42 | 42.5 | 43 | 44 | 44.5 | 45 | 45.5 | 46 | 47 | 47.5 | 48 |
| 1 | 1.5 | 2 | 2.5 | 3 | 3.5 | 4 | 4.5 | 5 | 5.5 | 6 | 6.5 | 7 | 7.5 | 8 | 8.5 | 9 | 9.5 | 10 | 10.5 | 11 | 11.5 | 12 | 12.5 | 13 |
| 1.5 | 2 | 2.5 | 3 | 3.5 | 4 | 4.5 | 5 | 5.5 | 6 | 6.5 | 7 | 7.5 | 8 | 8.5 | 9 | 9.5 | 10 | 10.5 | 11 | 11.5 | 12 | 12.5 | 13 | 13.5 |
| 19.5 | 20 | 20.5 | 21 | 21.5 | 22 | 22.5 | 23 | 23.5 | 24 | 24.5 | 25 | 25.5 | 26 | 26.5 | 27 | 27.5 | 28 | 28.5 | 29 | 29.5 | | | | |
How to measure your foot:
Step 1: Make sure you are wearing the type of socks that you usually wear. Place a sheet of paper on the floor, lining it up with a wall. Place your foot on top of the paper, resting your heel against the wall.
Step 2: Using a pen or pencil, make a mark at the end of the toe furthest from the wall (big toe). Do the same for both the right and the left foot, as they may differ slightly in size.
Step 3: Using a ruler, measure the distance between side of the sheet of paper that you lined up with the wall and the mark you made, repeating this for both feet. Make a note of the longest of the two measurements (in mm). Find your shoe size by comparing this value (in mm) with the measurements on our size chart.
Is the measure between two sizes?
Choose the smaller size for a tighter fit. Choose the bigger size if you prefer a roomier fit.

Tecnologies
Tecnologies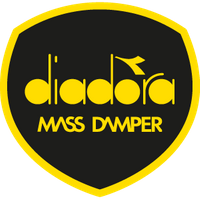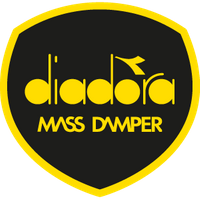 Mass Damper
Diadora R&D labs have developed a technology able to maximise the shoe cushioning effect while ensuring high protection, versatility and dynamic performances. Mass Damper is indeed a sole revolutionary technology design that guarantees maximum comfort and top quality performances over time. The benefits of this technology are clear. This technology extends to cover the whole surface of the sole, allowing the foot to dynamically roll from positioning to take off, without compromising the cushioning. The low-density material of the sole ensures great resilience and compression set performances, for maximum comfort and a high energy return. The thermoplastic polyurethane/ester coating creates an external protection shell that increases the sole resistance to abrasion, tearing, hydrolysis, fuels and oil. Suitable for the most intense activities because it maintains high levels of cushioning, also in static efforts when comfort, support and stability really are essential elements.


Duratech 5000
special wear-resistant rubber compound assuring a far higher wear resistance than standard rubber, offering an effective solution to shoe heel wear.
Description
Description
For short runs and gym workouts, the Mythos MDS 2 is the perfect diadora shoe.
Advantages
use: short runs and workouts
printed ergonomic insole in EVA
Mass Damper midsole in super-low density polyurethane
sole with Duratech wear-resistant compound
First introduced for the Utility line, Mass Damper is the cushioning technology that returns the energy absorbed when running. Men's running shoe with nylon airmesh upper with transferred PU inserts and 3D logo.
Attributes
Attributes
Upper

Air mesh nylon, PU transfer inserts, 3M logo

Insole

Removeble anatomic in molded EVA

Sole

Special wear-resistant duratech 5000 compound in heel area